Creating your dream bathroom can often seem difficult when you have limited space. You may think, what's the point in putting the time and effort into designing a new bathroom, when there's such little room to play with? Well, first things first, you need to get rid of that mindset!
It's easy enough to say add in a new window and bring in more natural light as a way to open up the room - but let's be honest, the majority of us do not have the time, nor the resources for that.
Good news, you don't need an endless budget or bespoke furniture to transform your bathroom. Our products, partnered up with some space saving hacks, and a little bit of creativity will help to utilise your space and make your area appear larger.
So, get your interior designer hat on, and let's make the most out of your small bathroom with our small bathroom inspiration!
What can I do with my small bathroom?
Transforming your space requires careful planning, taking into account how much room you have and the best way of utilising it. You have to be willing to compromise and consider what is a priority and what isn't essential.
There are many directions you could take your bathroom design in, maybe you will leave your bathroom plain and neutral coloured with some fun and bright accessories, or perhaps you will incorporate a feature wall. Don't be afraid to be bold and have fun!
Utilise the walls
Walls are the structure of your tiny bathroom, quite literally. But what we mean is, your walls are going to allow you to have more floor space and open up your area, if utilised correctly!
Your walls aren't only for hanging the perfect Heated Towel Rail to keep your towels nice and toasty, you can create smart storage solutions and bring in different decorations to add personality into your space.
Installing shelves is an easy way to free up cluttered cupboards and countertops. Get creative with decorations, having a running plant draping over a shelf adds in a splash of colour and comes with health benefits!
You want to be careful when selecting which plants to house in your bathroom, our Handy Guide to Bathroom Plants blog post recommends the ideal plants for your bathroom.
Due to lack of storage, bathrooms can become overflowed with shampoo bottles and an array of scented shower gels along the bath, or shower floor. However, we have all been victim to the dreaded shampoo in the eye debacle, and whilst scrambling around to regain some of your eyesight, all of those bottles lying around can cause a hazard. Wall niches are the perfect solution to storing all of your showering essentials, and they look extremely luxurious too.
Consider wall hung furniture
In addition to using your walls for towel rails, storage, and accessories, choosing a Wall Hung Vanity Unit is a great way to open up the floor space, creating the illusion of a larger room. We also recommend considering a Wall Hung Toilet, as not only will this save up on floor space, they look super stylish and are perfect for adding in a touch of luxury, in a cost-effective way.
Keep it tidy!
We're all guilty of owning way too many products, yet we refuse to throw anything away. Just in case we will one day need those bottles of shampoo and conditioner we 'borrowed' from that hotel last year.
This results in overflowing drawers and cluttered countertops, and in general a hot mess of a room - which no one wants while they're trying to have a relaxing bath.
It may seem obvious, but vanity units and tall cabinets are essential for keeping your bathroom clutter free. For tips on how to tackle the clutter, head to our bathroom storage solutions blog post.
It's easy to let the mess get out of hand, putting it off and promising yourself that you will tidy up tomorrow, however one week later you are faced with a mountain load of mess. A messy room is a busy room, and a busy room looks much smaller than the reality. The best tip is to tidy as you go along, that way it won't feel like such a chore!
Ditch the shower curtain
A shower curtain can add personality and colour into a bathroom, however you are in turn blocking the light from travelling around the room, making your bathroom appear smaller. Swapping out your shower curtain for a Bath Screen will keep the bathroom open while offering a chic and minimalist appearance.
Possibly the simplest way to save up on space is replacing your bath for a shower enclosure. Not only will you have more room for storage, but glass will open up the room. A brilliant hack for small bathrooms; choose a frameless shower enclosure to create that 'barely there' look.
Maximise your space
If you can't sacrifice your weekly soak in the bath, (let's be honest, it is nice after a stressful day!) then our Space Saving Baths would be the ideal fit. Incorporating luxury and practicality, you will be able to enjoy a relaxing bubble bath without compromising your space.
You also want to be smart with your furniture choices, make sure you aren't buying furniture that is bulky and too big for your room. We have a range of Combination Vanity Units available varying in size, style and colour, which will help you save up on space while offering storage and an eye-catching design.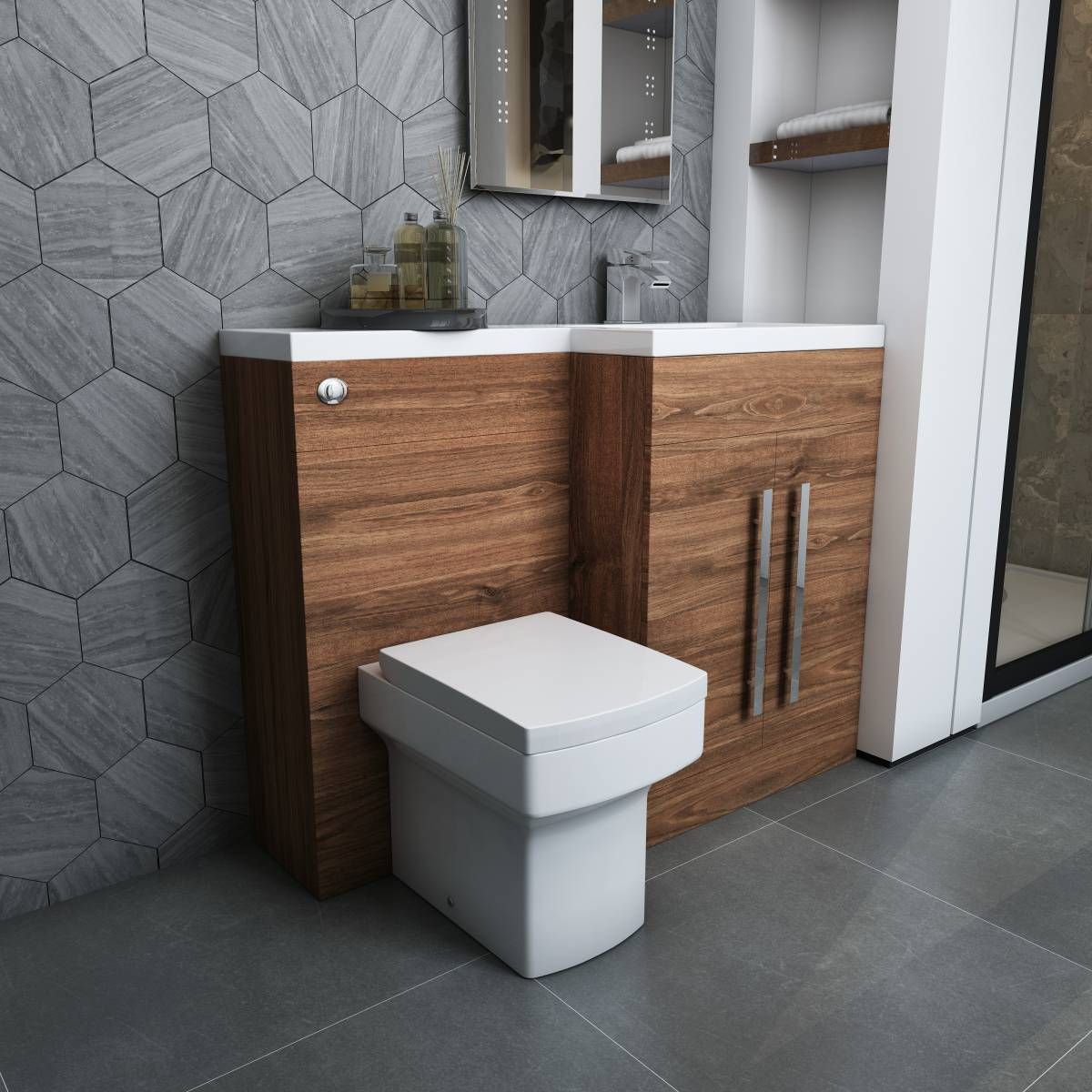 Be smart with your lighting
Unfortunately we don't all have the luxury of large windows which bring in heaps of natural light throughout the day. For the majority of us with small windows, and even no windows, it's about utilising the resources we do have and introducing artificial means of lighting.
Installing a netted curtain will allow the daylight to shine through nicely, while still offering the privacy you deserve in the comfort of your own bathroom.
LED lights are great for bringing in artificial lighting to bathrooms which lack natural light, and are great for saving money as they use 80% less energy than a standard lightbulb. Find out more about how to save money in your bathroom in our Bathroom Energy Saving Tips blog post.
What colours are best for small bathrooms?
Keep it neutral
It may be a phrase you are sick of hearing, but sometimes less really is more. Selecting neutral and light colours will create the illusion of more natural light in the room - which then makes the room appear larger. If you have very limited natural light coming into your bathroom, then sticking to light colours may be something to consider.
Introduce a feature wall
Contrary to what you have read above, it isn't essential to stick to a strict colour palette of neutrals and light shades. This is your space after all, and you want to feel 100% comfortable in your area, and if that means you would like a bright pink wall, why not?! Introducing an accent wall into your space will instantly grab the eye's attention.
Feature walls are a great way to add in some colour and personality without being too overpowering. Selecting a patterned wallpaper or intricate tiles, and dedicating one particular wall for this feature, will not only bring your bathroom to life, but it will also distract the eye from the size of the room.
A more cost effective alternative to tiles are Bathroom Wall Panels. These MDF panels from Showerwall are grout free which eliminates the possibility of mould and a build-up of dirt.
Contrasting colours are essential when it comes to feature walls, you need to make sure the rest of the colour in your room does not clash with the feature wall. Opting for muted and lighter shades which compliment the main feature wall will leave your bathroom with an elegant and stylish appearance.
How can I add personality to a small bathroom?
If you're struggling for small bathroom decorating ideas, don't panic! There are plenty of design options out there, just because you're limited for space does not mean that you have to keep it plain.
Introducing different patterns and textures is an easy way to bring your room to life and let your own personality shine through. Whether you are on a tight budget or you have a little bit of money to play with, there are plenty of ways you can bring your small bathroom to life.
Floor tiles
If you fear your bathroom might be looking a little too clinical after you have covered the walls with white paint, not to worry!
Why not consider choosing bold patterned floor tiles. This will add in personality and also will allow you to splash out on a high quality product, due to having less square feet to cover.
If you have existing wall tiles you want to keep or have decided to add these in, you could use the same tiles for the flooring. Matching your floor and wall tiles not only offers a seamless and contemporary appearance, it also creates the illusion of a larger room!
You will need to make sure that the tiles are suitable, anti-slip tiles are essential in a bathroom environment due to the water and steam!
Reflections
Mirrors aren't only essential for getting that perfect selfie, they are a great tool to open up your bathroom. The reflective surface bounces the light around the room, making the room appear brighter and larger.
We have a wide range of Mirrors including LED Mirrors which will reflect the natural light in the day, and illuminate your space in the evenings. Our Mirrored Cabinets are perfect for additional storage, the perfect place to store your toiletries and everyday essentials.
Chrome Heated Towel Rails offer an additional reflective surface, teamed together with chrome taps and showers, natural light will be bouncing from corner to corner.
Gloss wall panels are great for reflecting light around your bathroom, and work perfectly to create a feature wall. The White Sparkle Wall Panel from Showerwall is the perfect addition to a neutral space, incorporating style and a glossy finish to have your bathroom beaming.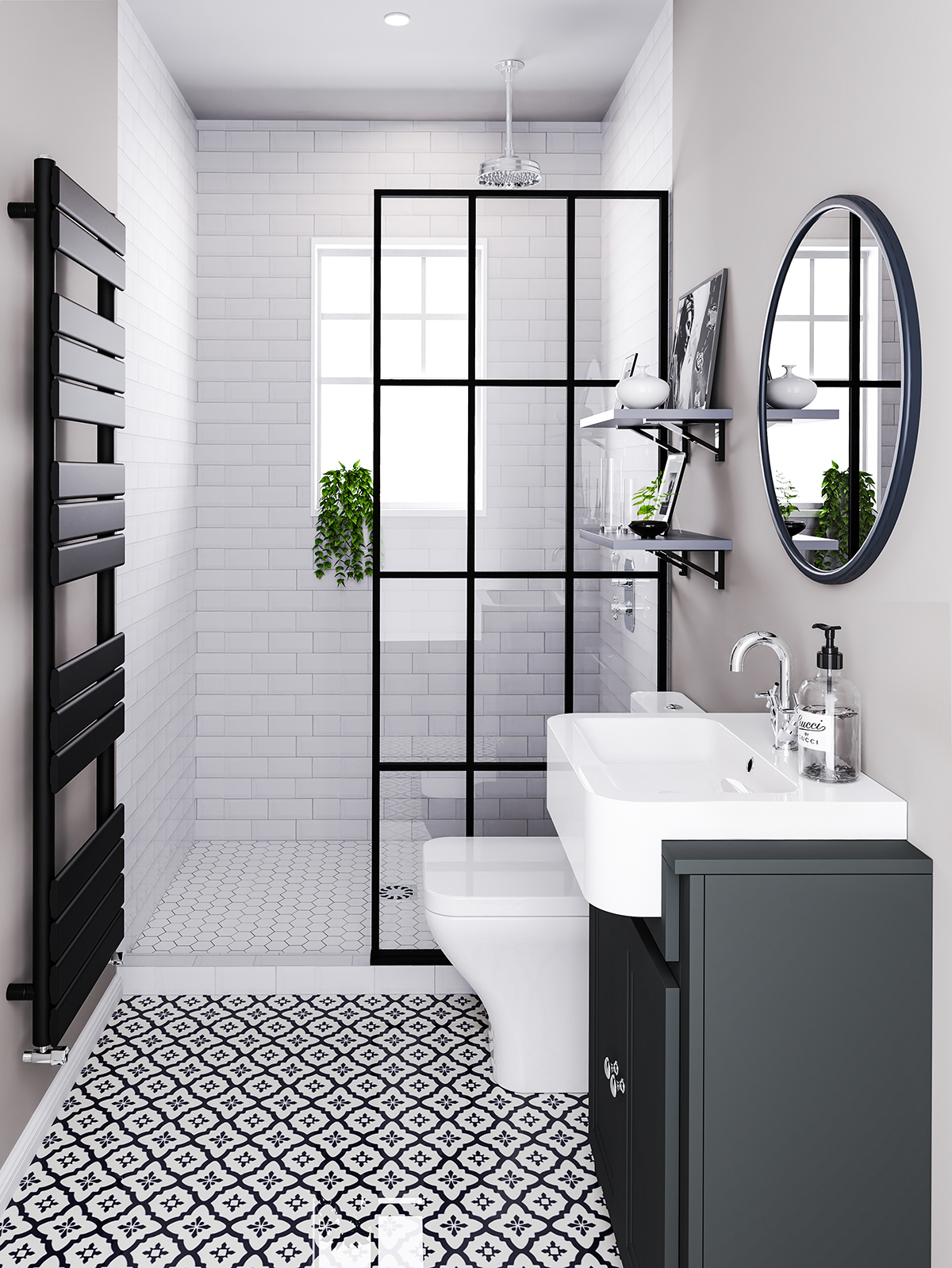 At Bathroom Takeaway, we're experts in everything bathroom. Discover our bathroom suites and accessories for more inspiration for your small bathroom!