A bathroom littered with various toiletries is nobody's idea of serenity. It can be especially frustrating when you're trying to relax and unwind in a bubble bath, but all you can see is a mess.
Luckily, we've got plenty of ideas for bathroom storage to help you cut back on the clutter to make the most of your space. No matter how small of a space you're working with, our storage hacks can work for you.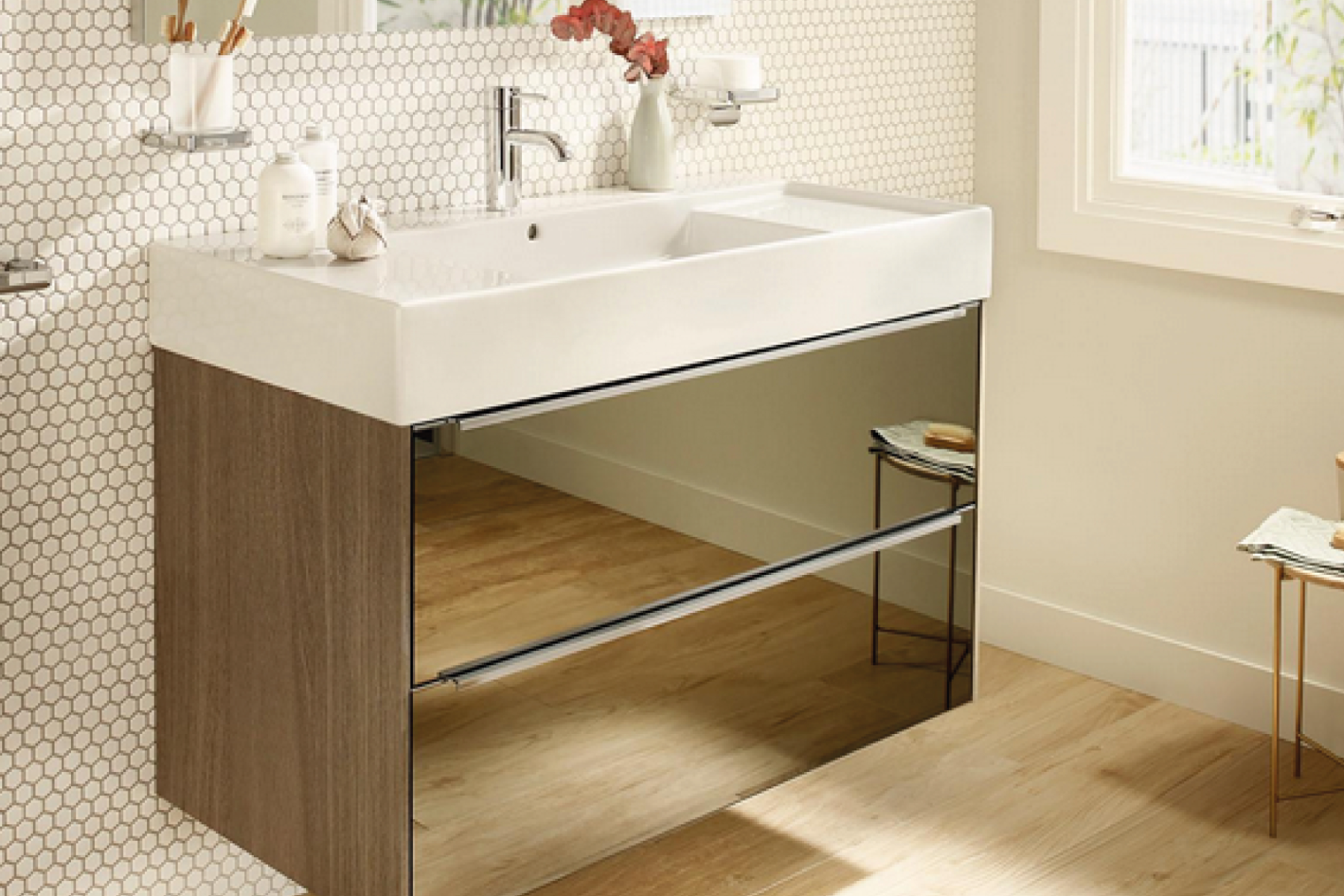 How Do I Hide Clutter In My Bathroom?
First things first, we want to avoid just sweeping the problem under the rug. If your current solution to hiding your clutter is to just shove it all in the cupboards - stop that right now! Ok, that was a bit dramatic, but the point remains - temporary solutions are not sustainable.
We've got a few clever bathroom storage solutions that are guaranteed to help even the messiest of bathrooms!
Install A Bathroom Vanity Unit
Not only does a vanity unit offer you extra storage, but it's also a great way to tie your whole space together. Our units are available in so many colours and finishes to suit every kind of interior.
Make even more use of this storage unit by adding hooks and even a small wire rack to the inside of the vanity door. This way you can store all of your most-used bathroom essentials in a convenient place, so they're easy to grab and go!
Make Use Of Storage Boxes
Simple and easy on the wallet, storage boxes are an effective way to keep your bathroom belongings neat and tidy. Boxes offer a great alternative to cabinets for those with smaller bathroom storage spaces.
There are so many styles out there to choose from, with plenty of fun designs to add character to your space. You could also opt for sleek wire frame style boxes if you're after something more modern.
Use Waterproof Mesh Nets
A mesh net is perfect for storing all your little ones' toys so they don't take up the entire bathroom. Using a net will allow them to dry out properly so they end up smelly or bacteria-ridden.
Opt for nets with heavy-duty suction cups for something less permanent that still does the trick. Make sure to use nets that match your tile colour for a more discreet look that doesn't affect your bathroom aesthetic.
Install A Bathroom Cabinet
A tall bathroom cabinet is a must-have if you've got a lot of awkward-sized or bigger items you need to store away. You can also fit your hand towels and toilet roll in larger cabinets if you're after a really minimalist look.
Why not make your storage space even more functional with a mirrored cabinet? We've even got some with LED lighting so you can take as many bathroom selfies as you like with the best possible lighting.
Use Tiered Storage Organisers
Tiered organisers are the perfect way to add even more space to your cabinets and shelves. This solution works especially well for smaller bits and bobs like cotton balls and razors that fit awkwardly.
Try and choose sturdy, durable tiers that will last you a long time and won't rust easily in damp spaces. This might be something like a PVC since it's waterproof and has an appealing look that suits all interiors.
Introduce Towel Racks
If you're not short on wall space, why not install a towel rack in your bathroom? This is a great way to keep your towels fresh and aired while adding a contemporary touch.
You can store multiple towels at once, and always keep one hanging in use so it's ready to go! If you'd rather something a bit more permanent, our wall-hung heated towel rails are another great way to keep your towels off the floor.
How Do I Organise My Bathroom Open Shelves?
If you have shelves, you're already halfway to an organised bathroom! All you need to do is a little planning to consolidate your items and you'll have a perfectly organised space in no time.
Take a look at some of our favourite bathroom storage shelf ideas and see if you can breathe new life into your shelves.
Use Baskets To Store Smaller Items
Wire and wicker baskets are great for adding interest to bathrooms, but they're equally as useful for storing all your essentials like toothpaste and dental floss. You could even stack your spare toilet roll in there instead of buried in your cupboards for easy access!
Place Shelves In Useful Areas
Rather than putting your shelves in hard-to-reach places, try placing them in a more valuable area like above your bath or next to the sink. This will completely free up any side or floor space and make your life so much easier.
Add Decorative Items To Make Use Of Unused Space
If you're more of a maximalist, it can be quite strange to adjust to all of the new free space in your bathroom. Satisfy your inner need for things with some organised decor instead. We'd recommend adding a couple of mini succulents to add a fresh feel to your space.
Learn more about the best plants for bathrooms.