Whether you're moving into a new home and you want to make the bathroom your own, or you're giving your space a glow up, taking inspiration from the latest bathroom trends is a great place to start.
Nowadays, we find a lot of inspiration through the media we consume. Scrolling through social media and watching tv is an easy way to have a nosey at other people's interior choices, and check out the latest bathroom design trends.
Struggling for inspiration to give your room a fresh new look? We have plenty of design tips, new bathroom trend ideas and timeless colour choices to help you design your dream bathroom. Read on to find out more.
What is the New Trend for Bathrooms?
Luckily, there are usually multiple bathroom trends circulating at any given time, meaning you aren't restricted in design choices. Choose what best suits you and your needs, and also what you like the look of. No one wants their bathroom experience ruined by a style choice which isn't to their taste.
If staying current and in line with trends is your thing, then look no further. We've rounded up our favourite bathroom design trends which you can easily incorporate into your space with our products. Check them out below:
Smart Bathrooms
The digital age is here to stay, and while we splash out on fancy gadgets for our homes, the bathroom is often overlooked.
Bathrooms are one of the places we should feel fully in control. Therefore, opting for a tech leading design will leave you in charge, and able to customise your space to suit you best.
Digital Showers allow you to personalise your shower routine to best suit your needs. Suitable for most home water systems, installing a digital shower will allow you to have full control of your regime while keeping in line with your contemporary design choices.
Lighting sources are something to consider when designing your smart space. The Imperio Ostavall Wall Hung Vanity Units come complete with sensor-controlled LED lights which line the drawers. These units are ideal for smaller bathrooms as they free up valuable floor space, while offering practical storage and appealing lighting solutions.
If you prefer an electric heated towel rail, our Bluetooth heating elements are a great addition to any smart bathroom. Controlled through the award winning NEX app to monitor your energy consumption and create the ideal heating schedule.
Complete your smart bathroom with a sensor controlled LED Mirror with a pre-installed demister pad.
Botanical Bathrooms
Artificial flowers and faux pampas grass are out, and gorgeous greenery is in. Add in natural tones to create a serene paradise which oozes life and brag-worthy aesthetics.
With the recent house plant craze, people are enjoying the idea of bringing the outside in, and with neutral complimentary tones, a botanical design is perfect for elevating your sacred space.
Wood-grain furniture does wonders for creating that outdoor feel, while being able to enjoy the warmth of the indoors. Our Oak-Effect vanity units and cabinets perfectly compliment gorgeous greenery.
If you are looking to fully embrace the green vibe, the Imperio Pure and Imperio Faro ranges offer furniture solutions in the perfect shade of green.
Introducing plants into your bathroom doesn't just have to be for aesthetics. Plants offer a range of health benefits, read our Handy Guide to Bathroom Plants to find out how you can benefit from housing plants into your bathroom.
Don't worry if you do suffer from a brown thumb, you can still create a gorgeous botanical bathroom with artificial plants instead.
What Bathroom Never Goes Out of Style?
We see trends come and and go all the time in life, like the return of flared jeans and rattan furniture. It's hard to keep track of what's in and what's out. And before you know it, you've spent the time refurbishing your bathroom to find out it's now last season's trend.
Bathroom trends which aren't likely to go out of style anytime soon, if ever, are perfect for the long term, and the bank account!
Some people thrive on having a bi-annual bathroom makeover to keep up-to-date with the latest interior trends. However, for those of us who don't have the time or resources for a regular refurb, we need a stylish and practical bathroom design which is here for the long haul. We recommend:
Traditional Bathrooms
The blend of a modern-day traditional style bathroom has been a long lasting trend, and we can't see it going out of fashion anytime soon.
Our range of Traditional Furniture offers precious storage space while keeping in line with your design. Our Abbey range is a great place to start if you're looking for functional, traditional looking toilets, basin mixers, bath taps and pedestal basins.
Whether you desire an exposed overhead drencher shower, or prefer a concealed valve, the Kartell Viktory range has the best to offer for traditional showering.
To complete your space, we recommend a freestanding bath from our Traditional range. From practical double ended baths to elegant slipper baths, our Solitude range combines traditional design with contemporary curves - creating a stylish statement for your bathroom.
Hotel-style Bathrooms
If modern luxury is more your vibe, then a hotel inspired bathroom is for you.
It's always great going on holiday and having a luxurious bathroom to call your own, but this shouldn't have to be a temporary treat. You can recreate a grand hotel style bathroom by introducing the right products and accessories.
Nothing screams high-end like a marble effect wall. The Shell Marble MDF Wall Panel is perfect for creating an eye catching feature wall with a high-end feel. Compliment your feature wall by installing brushed brass fixtures from the Kartell Ottone range.
Your hotel inspired bathroom should be luxurious, and the perfect place to wind down and focus on self-care. Recently we've seen self-care become more prioritised, and nothing screams self care like an hour-long soak in the bath with a glass of wine and a face mask.
A Freestanding Bath offers you serenity while looking extremely luxurious in your space. And make sure you add plenty of bubble bath to make your experience even better!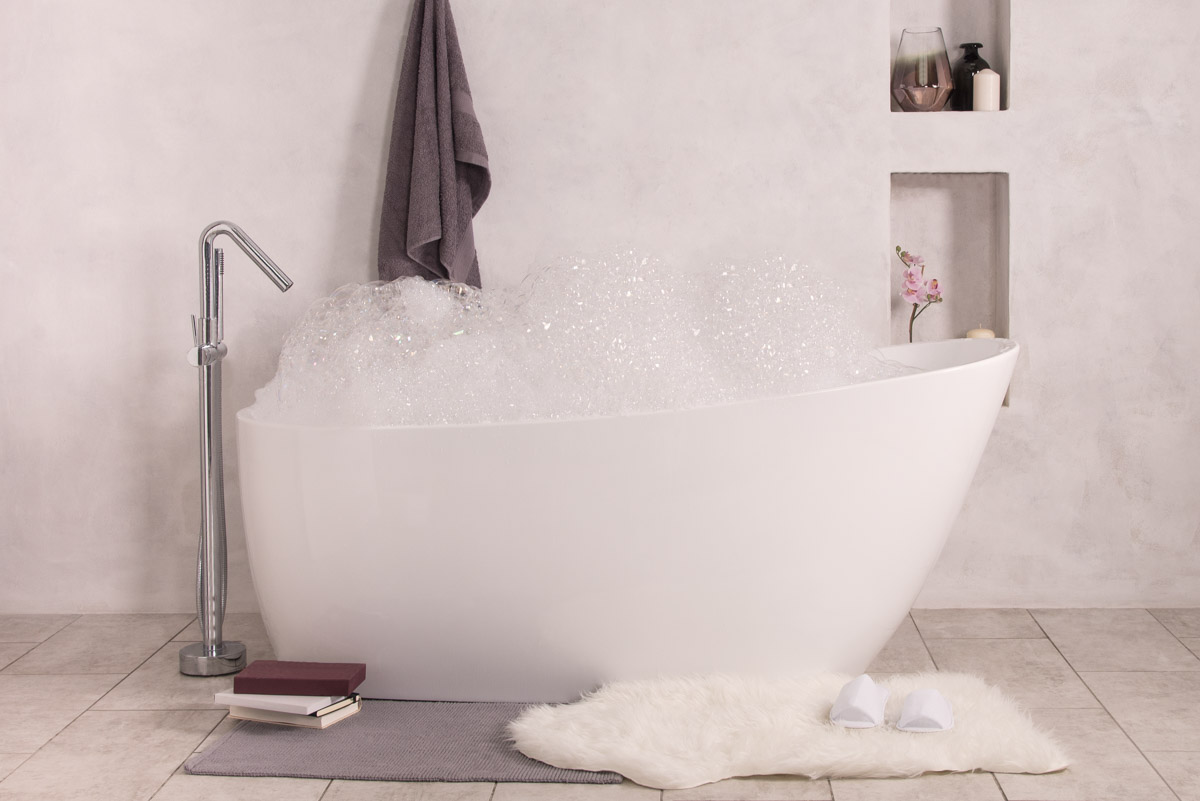 What Bathroom Colours are Timeless?
Make life easier by opting for a timeless colour scheme. This will allow you to keep the bathroom you love to spend your time in, without fearing you need to redecorate.
The easy option for a timeless bathroom is usually a minimal design. Think neutral colours and plain to no patterns, as this is never likely to go out of style. The only downside some might find to a minimal bathroom is the lack of spirit and personality.
You can still have a fun and stylish colour scheme without the need to regularly switch it up to keep on track with the current design trends.
Monochromatic Colour Scheme
A monochrome colour scheme is a trend we see everywhere, and it works particularly well in the bathroom. Using black and white as the main colours in your bathroom will not only look incredibly sleek and stylish, it's a timeless choice.,/p>
Make a statement in your monochrome bathroom or ensuite by installing an Ai6 Black Enclosure or Shower Door. Match your enclosure with fixtures from the Kartell Nero range to elevate your sleek and contemporary bathroom.
If you are looking to add a little bit of personality or a hint of colour into your monochrome bathroom, plants are the perfect complimentary accessory.
Blue Colour Scheme
If a bold colour scheme is your thing, blue is the perfect bathroom shade. We usually associate the colour blue with water, which makes it an appropriate timeless design choice.
If you are looking for a bright and electric design, or a traditional elegant feel is more your vibe, we have various shades of Blue Furniture which will allow you to create a flawless and chic oasis.
Take your blue paradise to the next level by getting creative with the walls. Tiles are a fun way to experiment with colour. Mosaic tiles not only look great but you can include multiple shades of blue. Tiles can often seem like extra hassle, but seeing as your blue bathroom is a timeless choice, you won't need to go through the pain of regular re-tiling.
Whichever bathroom design trend you decide to go for, we have a wide range of products to help bring your vision to life. Explore our range of high-quality bathroom furniture to get you started.